This Old House Part 19 of 63453 – Rotted Floor Joist and Backdoor
So I write a good deal about the stuff I have been doing to my house.. I have been hanging doors mostly in between classes, and I feel like I have already told everyone about that once, and there is no point in saying "Yeah I did it again"..
I was going to rehang the back door since I was really cockeyed and never shut right. I stripped out all the old jambs, and went to take out the old threshold and it turns out that was a significant amount of water damage under the back door. One of the 2 floor joists under the back wall and porch was pretty much worthless. There had been some repairs attempted before, but nothing correct. It also meant there was no place to attach a new threshold to, so I opted to fix it correctly.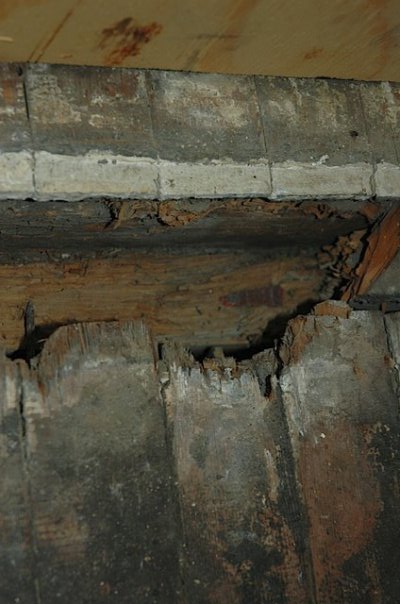 Rotted wood under the old threshold. The gap easily went down 2-3 inches. The porch floor was also saggy around the damage.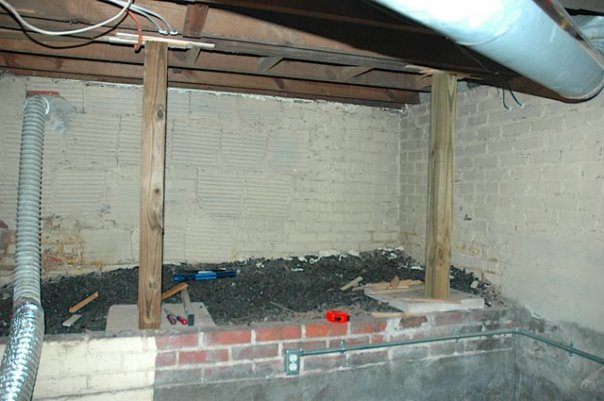 Temporary Bracing Setup
So to get started in hacking out the bad parts I needed to install bracing to temporarily hold the load. I took some old pavers and leveled them on the old coal bed (yeah there is coal under my house still).. I then put in some 4x4s and secured them as tightly as possible with some shims and made sure they were totally level. Anyone who has taken Statics in Engineering school knows that you want it to be as level as possible to shift all the load down.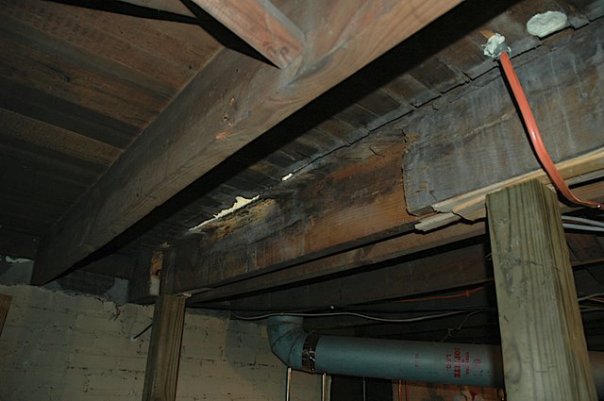 The rotted sections removed. You can see where the water was with all the grey-ish are on the other joist that amazingly wasn't too damaged.
After about an hour of hacking away with my reciprocating saw, some hand saw work to clean up the edges, and a bit of work with a crow and wrecking bar I had all the bad sections out..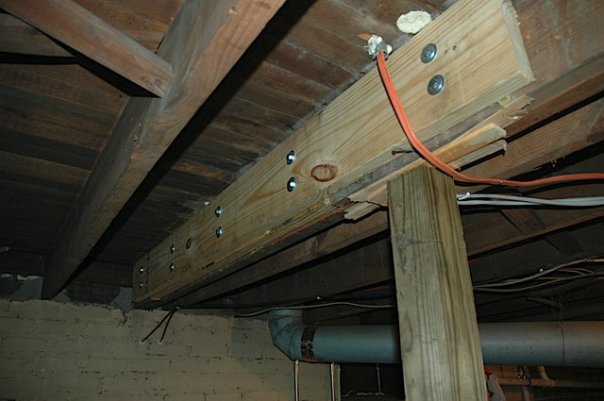 Rotted section replaced, another joist sistered to it, and held together with bolts.
I then cut out pieces of good clean fresh 2×8 to replace the bad sections, and held them in place temporarily with some nails and a ton of construction adhesive. When I had the extra joist in place I drilled holes and pulled all 3 joists together with 3/8″ bolts.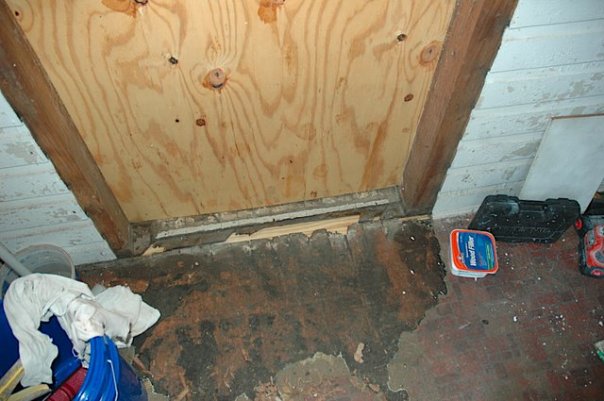 The view from the top. Now there is something to attach a new threshold to.
Now when you look up top you can see there is something to attach a threshold too.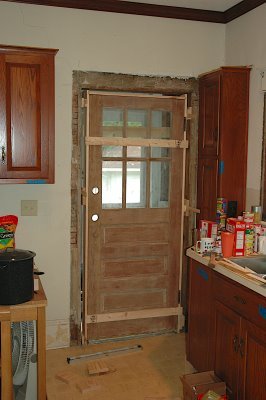 Installing the back door as a pre-hung door.
So then just like hanging any of the rest of the doors in my house I took it to the building supply place here an had the top trimmed square, and picked up some jamb stock. I also had the millwork guy rip the jambs to an odd size (4 5/8″) since that's what I needed for the oddball rough opening. I hung the door on a set of saw horses, squared it up and then held it together with some temporary braces and installed like you do a pre-hung door..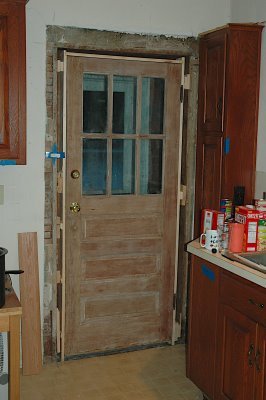 Back door fully installed, with new lock, and deadbolt installed.
So here is my final installed back door. It's so nice to have a back door that actually latches since it's level, and properly installed. Well it's possible the door was properly installed a long time ago, but some sagging and some time made it not installed properly..
Maybe I should get into carpentry.. The painters painting my house were really impressed with the fence I build this summer too..