This Old House Part 21 of 63453 – Kitchen / Dining Room Progress
There has been some progress on the kitchen and dining room in the last few weeks.. I am already tired of not having a kitchen, and well I've lost about 15 lbs.. So the plaster / drywall work is almost done.. The guy will come back this week and put the on finishing touches.. The fact that the walls look sorta normal without huge cracks is helping me to cope with this never ending project..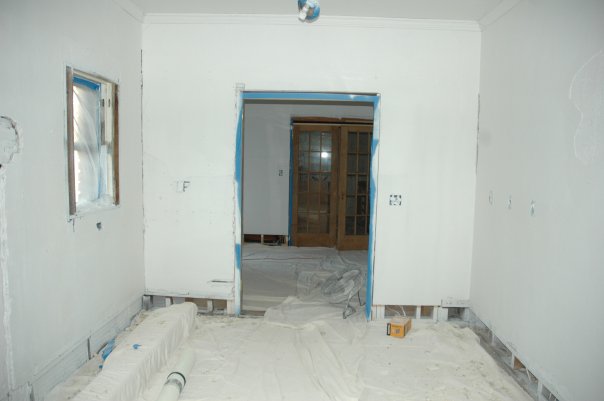 Walls finally starting to look normal.. This photo isn't the most recent, but only with the primer sprayed on..
Today the floor guys came and replaced all the damaged boards, which accounted for maybe 1/4 of the floor in the kitchen.. They also installed thresholds under the french doors I installed before I went to Brazil.. They will refinish the floors in a week or so whenever the walls are finished and I have painted the ceilings and walls.. Any thoughts on colors? The kitchen I am going to just leave a white, but the dining room I can't decide but white is too boring..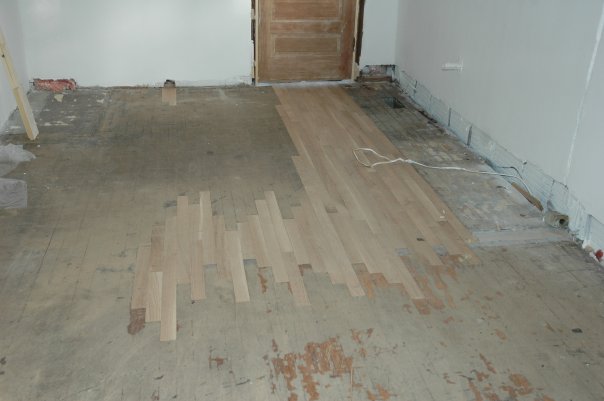 Area of hardwood flooring replaced
Once I pulled up all the floor a few weeks ago I noticed that the floor was sagged.. I reinforced one of the joists, and also had to install a floor jack to keep the floor level.. The good thing was since I wasn't moving a wall or anything I just was able to put my car jack and a 4×4 on the joist and raise it to level (about a 1/2 inch).. So now between my washer and dryer in the basement I have this lovely floor jack..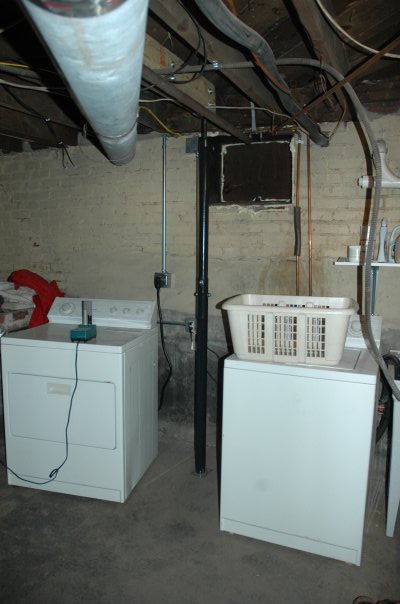 The jack taking the sag out of the kitchen floor
I also bought all my appliances last week, they will get delivered the 20th.. I think that may be too early now, but we'll see.. It was nice NC had a sales tax weekend on energy star appliances so I saved around 150 bucks in tax on the fridge and dishwasher..
I still have some electrical stuff to do, and some plumbing, but things are starting to fall into place.. It looks like I have 2-3 more weeks of living with my cabinets in the living room, and all my kitchen food and stuff in the back bedroom..
I also swear I will blog about everything else in my life one of these days.. A lot of stuff has been going on..