February 18th, 2009
Comments off
I have been meaning to write about my trip to Curitiba, Brazil for a long time now.. I went back in October with the UNCG Bryan school.. It was a 2 elective credit "course" – Experience Business Abroad.. I have to say the trip was amazing.. I had a great time, and I learned a lot about Brazil..
The trip was only for 10 days, 3 of which were spent traveling; We mostly did educational related stuff on the trip.. We did some tourism stuff toward the end of the week, but it was raining the last few days we were there so some of those plans had to get scraped.. Overall Brazil is a beautiful country, and I would love to go back.. My tourists visa is still good for 4 and a half years, so hopefully I can make it back before then.. The visa cost $140 bucks; Brazil has a reciprocal visa cost and since the states charges Brazilians that much for a tourist visa they in turn charge us the same.. Most other countries the visa is free, or significantly less costly.. The EU I believe it is around $30 USD.. Figures..
Day 1 & 2 – Greensboro to Charlotte to NYC to São Paulo to Curitiba
The first 2 days were mostly spent traveling.. We had to take a bus to Charlotte to catch a flight to JFK where we sat for 7-8 hours.. Most of the group went to Manhattan to do some tourist stuff, but I opted to stay in the airport and have some beers with 2 others from the group.. Nothing very exciting.. After that we took a completely packed plane to São Paulo and then another to Curitiba.. The travel plans were made by a tourism company, and we were not allowed to make our own plans for getting to Brazil, otherwise I would have never chosen such a strange and convoluted path.. You could go from Charlotte/Greensboro to Miami and onto Brazil much quicker.. No idea why we went the way we did..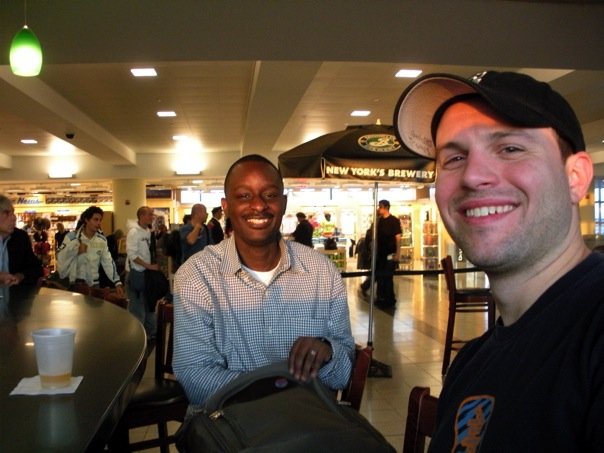 Paul and I at some airport bar in JFK (Thanks for the photo Shelby)
When we arrived in Curitiba they took us to the hotel, and we were supposed to meet up at what I thought was 8pm to go somewhere; turns out it was actually 7pm.. Shelby and I ended up going to a bar down the street from the hotel (Democratas) and missed the group.. There was no way to contact them, so we went back to the bar.. At the bar it was very obvious that only knowing English and Deutsch wasn't going to leave any means of communication.. To order a dark beer at the bar I pointed at the empty pint glass and said "negro", which eventually got the message across.. Turns out "escuro" means "dark" in Português and that's how the locals would order a dark beer.. At this point I decided that I need to at least learn Español, brush up on my Deutsch, and maybe why not learn Português if I want to come back to Brasil..


View from my hotel room of Curitiba.. I stitched these together from a few photos..
Day 3 – FAE
FAE was the name of the university that we spent most of our time at in Curitiba.. The group went there, and we had many presentations about Brazil, doing business there, how the country works, etc.. The main thing that I took away from everything we learned in the classroom is the family oriented nature of Brazilian culture.. In Brazil family comes first, not financial gains as in the states.. It may be one of the things holding Brazil (sort of) back from breaking into being a world power.. Business decisions are made based on who your parents are not your skills or experience.. It's sort of weird.. America may be too centered on simply making money, and family comes second.. Look at our divorce rate, and how many people do we know who are not happily married..
One interesting thing that was very obvious about Brazilian culture was the openness of sexuality.. Walking to FAE from the hotel I saw a few couples making out on the sidewalk in the middle of the day.. PDA is accepted in their culture.. No one thinks anything of it.. I guess they aren't nearly as prudish as American's tend to be.. I can't think of any other country I have been to where it was just that out in the open..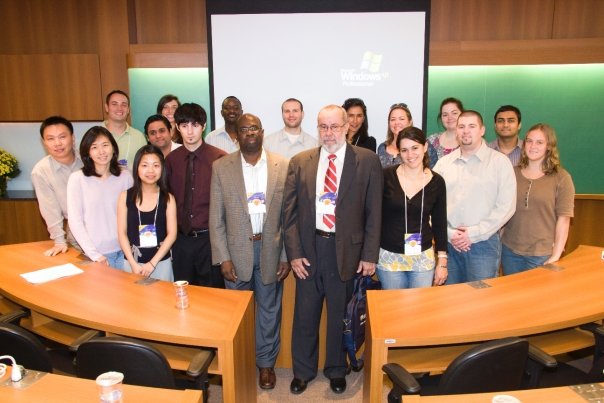 The group in the classroom where we would spend much of our trip (on FAE campus)..
More to continue later…